Stampin' Up!® Demonstrator Karen Robinson | 12 Weeks of Halloween 2018 – Week 4
Today's an exciting day, isn't it? The Stampin' Up! 2018 Holiday Catalogue goes live today, which means all the gorgeous products you've been seeing sneak peeks of are now finally available, YAY!!! 🙂
Today's project uses lots of brand new goodies and features the fun *new* Takeout Thinlits. I'm always thrilled when Stampin' Up! releases new bag and box dies – I love my 3D projects and this little cutie was definitely on my pre-order.
The box measures approximately 5.4 x 4.4 x 5.1cm  and you'll need to cut two of the main pieces to create one box. Each box only requires 1/2 a sheet of A4 cardstock which means you can make two from one full sheet. I like to be frugal with my supplies as much as possible, so was thrilled when I made this discovery 🙂
I decided to make my boxes from Vellum, for something a little different, I love the translucent quality of this paper and how it hints at the contents inside.
TIP: Vellum isn't quite flexible as cardstock so take a little extra care when burnishing your score lines to keep your folds crisp and straight.
I used Tear n' Tape to put my box together and would highly recommend a strong, dry adhesive if making these from Vellum. The adhesive is visible on the tabs and base, but the tabs were visible anyway so I just made sure to cover them completely with the adhesive and the joins are as seamless as they were going to be 🙂
TIP: I made sure to reinforce each join with my bone folder as I was assembling the box to help everything adhere really well.
The top of this box has two interlocking tabs to close it – hidden under the ribbon, sorry – I really like this feature as they don't need any extra adhesive to keep closed and can be opened easily.
The decoration was made using the Cauldron Bubble Bundle this bundle is full of great images to colour and coordinating framelits.
I used the web framelit from the Cauldron Framelits to decorate the fronts of the boxes and used the Multipurpose Adhesive Sheets on the back of my foil before die cutting to make them easier to adhere.
TIP: It's definitely easier to adhere this to the front of your box before assembling as you can use your bone folder to make sure all parts of the die cut are adhered well.
I used the *new* Glittered Organdy Ribbon to add some sparkle to my boxes (you should see them under lights, gorgeous!), but I will warn you that this ribbon does shed glitter and if that bothers you I'd use a different one, there are loads to choose from that are just as lovely.
A simple tag with a heat embossed sentiment and cheeky ghost finishes off my simple project and I loved how elegant the black, white and silver looked together.
I think these boxes would make a lovely treat for co-workers or even to have as a table favour. Even though they're small, they can still hold quite a few treats, the one on the left has two Reese's Miniature Cups & a 43g bag of Reese's Pieces while the box on the right has 11 Hershey Kisses inside.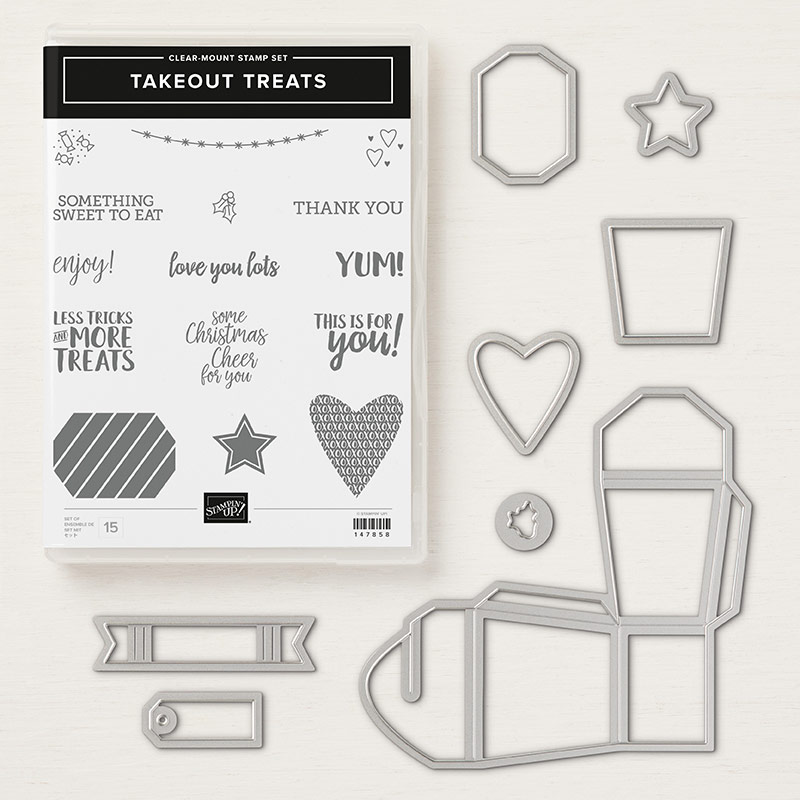 The Takeout Thinlits are available individually or a part of a cost saving bundle – the Takeout Treats Bundle (save 10%). I went for the bundle myself, as I like the extra sentiments to choose from and the extra elements that coordinate with the framelits.
I'm planning on making lots more of these sweet boxes for the coming celebrations and know I'll be using them for my husband's Advent Calendar this year – I've already checked and they hold a Nespresso pod perfectly 😉 I hope you these little boxes them as much as I do, because you'll be seeing plenty of them on my blog over the next few months 🙂
Cheers,
Karen
If you'd like to purchase any of the products I used today, please visit my Online Store. I'd love to be your Stampin' Up! Demonstrator in Australia and remember to use September's Host Code: 6PWVE6R6  when you shop with me to receive your Party Perks.
Click here to shop with me 24/7
To receive a FREE Catalogue, click here
12 Weeks of Halloween 2018 – Week 4 | Supply List
Click on any image below to shop in my Online Store